Well, the rear Ohlins are on.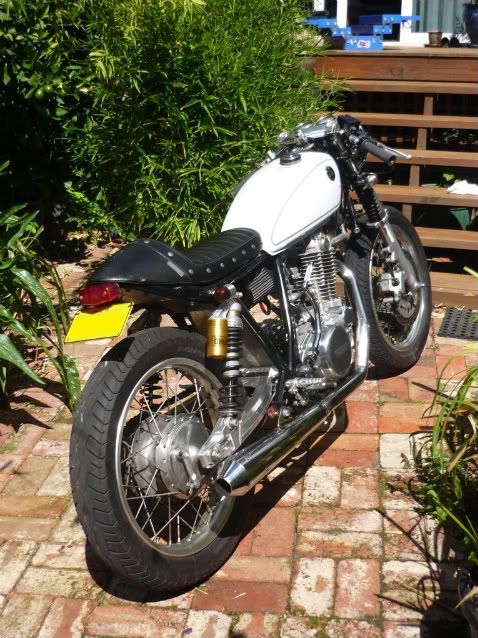 And man, are they stiff! It's quite hard to tell how they perform without the front set up correctly but when it's going it feels quite planted and firm. They also feel longer than the already-longer Ikons, which in turn gives the impression that it's sharpened the steering a bit. Unfortunately, the front end now feels very mushy and not in-line with the rear After an hour or two blat around Melbourne streets at 1AM this morning in it's current form the bike is nearly approaching unrideable, hard at least.
They aren't adjustable for anything but height. This worries me a little, as people like Stew from the SR500 forum change their settings often depending on the roads. He's a fan of the Gazi shocks
Gazi Shocks
which do have a good range of adjustments available. I'm not 100% sold on the cosmetics of them as yet, but they do perform well as he says in
this review
. He is sponsored by Gazi on his salt racing SR500 but I know the guy and can't imagine him recommending something unless he really believed in it himself.
I've contacted one or two suspension shops that have come recommended -
Promecha
and
krooztune
but they both have 2-3 weeks wait before anything can be done. And I'm supposed to be leaving town in a little over the week for a 1500k trip to Sydney. Always leaving things to the last minute...
So I'll keep sending some emails and asking around for some kind of preset formula to match the front with the rear. I've also got to take the time to measure out all the sag measurements, especially at the front, so I can work out what basic settings I need. I'm guessing that the
front fork springs
that Ohlins sell for the SR400/SR500 should match up, and get it a little closer?
In the meantime, it's searching Japanese websites to find out what people are running.
This guy
changed back from Ohlins to WP shocks for more adjustment. He seems to be keen on making his SR handle, so his opinion might be valid, or it might be complete shit - it's very hard to judge the tone of writing through google translate! He also speaks highly of the Dunlop TT900GP tyres. He's running WP springs at the front in an effort to get rid of what looks like a similar problem to mine.
There's some other links too, but are either pretty vague or I'm sure they don't know what they're talking about either. It seems everybody in the world is doing up their engines but nobody has much solid information on suspension set up!
Oh well, I'll probably just put more oil in the forks to start off with and maybe some 20c peices as preload to see how we go.