I remember sifting through some photos from a classic race meet in Italy or France, and found this hiding in the background. Amongst the smell British bikes leaking oil, the crackle Italian bikes electrics frying and the dull empty sense of nothingness of old Hondas sat this little gem...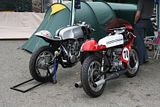 Looking at the engine and the frame it looks to be a XT. The nicest thing about this bike looks like the tank/seat combination. Although it's the traditional Manx Norton style tank, the cutout at the bottom lends a nice touch. The seat is quite modern in it's shape, and it suits the stance of the bike as well.

I've got no real information about this bike at all - If you know anything about it, or have any more pictures I'd love to see them.