A few weeks ago I did the valve clearences for the first service on my new engine. I got a bit of a fright when I took the sidecover off the flywheel and found a light coating of fine surface rust.
Shit shit shit shit shit shit shit shit shit shit shit shit shit shit shit shit.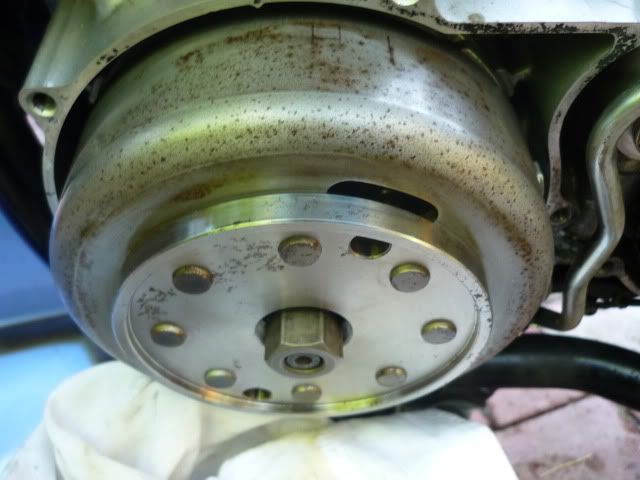 Shit.
The gasket had perished over time and allowed some water to enter the cover and sit at the bottom, causing condensation and the bane of motorcyclists and Lada owners everywhere - Rust.
I took some of the rust back with some fine sandpaper, and sprayed it with WD40. After asking around the best option for me was to get some heavy gearbox oil and apply a light coat over it. I've gone back and checked it in the time since and it looks fine. There's a new gasket in there as well -
Deus
to the rescue at the last minute again.
It's interesting the things you learn when you ask around. One guy suggested that I don't run a gasket at all and simply drill a hole at the bottom of the cover that allows water to escape. While I admire thriftyness, at $10.00 a pop I think I'll just keep replacing a gasket once a year.
Oh, and before I go - I need a new name for the blog. I've had three people say they can't check it at work because of the title, so I'm taking submissions now!