Well, last weekend I changed the fork seals on the bike.
And I got to use a grinder.
Strange mix really. Usually the two things go hand in hand but as always one or two little challenges reared their head.
I did the work at my girlfriends house, which is a large building in Melbourne that's undergoing some renovations. I was lucky, nae, blessed with the use of a good work bench and a vice for the weekend and I shudder to think of going back to work without one.
Due to having to do the whole thing I was a bit under the pump having to get the bike in and out of the place by the end of the day and I'm not happy with the job I've done. So I'll do it again one weekend... oh well.
I put the SR up on the Harley Cruiser stand that I'd bought from Anderson, choked it up with some bricks as the weight was biased forward a bit and went about undoing the pinchbolts that held everything together at the front. All 8,000,000 of them.
Forks came off beautifully, I drained the oil into a bucket and a bit on the the floor and put everything in the vice. I'd been to alltools where I had multiple orgasms looking at the shiny tools there and picked up a 50cm extension of my ratchet and a 17mm hex head.
Everything was in the vice but...
... The socket wouldn't fit inside the inner tube.
So it was upstairs to play with a grinder to take a bit off the outside.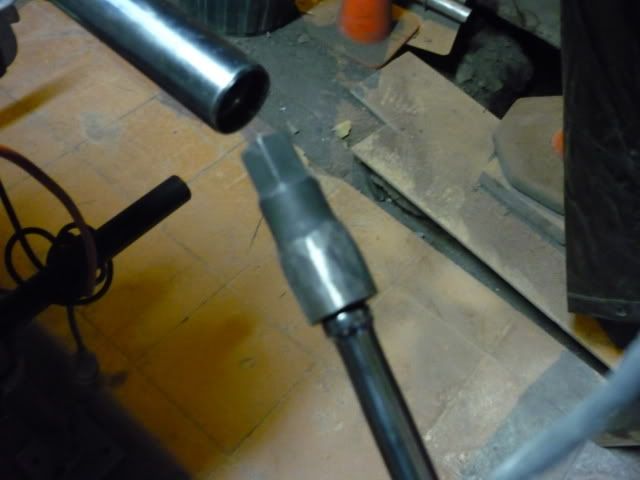 Lovely stuff.